Hot Services. Cool Prices. Contact Us Today for Your Free Estimate!
Dryer Vent Cleaning in Simi Valley
Reliable Vent Cleaning from Qualified Technicians
Other than cleaning the lint screen, most people don't give the dryer vent system much thought. This can be a dangerous and expensive mistake. It is estimated that dirty dryer vents contribute to the more than 15,000 dryer fires that occur each year. Integrity Comfort Systems offers professional dryer vent cleaning in Simi Valley to help keep your home safe and protected.
Please contact us today at (805) 301-9580 to schedule dryer vent cleaning service.
How Dryer Vents Get Clogged
Lint can gradually build up inside your dryer and dryer vents. In some cases, a problem with the lint trap in the dryer or the dryer vent itself can contribute to clogs. For example, if the lint trap in the dryer is not working correctly, the lint can move past the trap and into the duct. A crushed dryer vent or an animal building a nest inside the duct can also result in clogs in the vent.
Although the dryer is a frequently used home appliance, it is one of the most neglected in terms of maintenance. This can result in highly flammable lint building up inside the ducts. In fact, most dryer fires are caused by lint buildup. For the safety of your home and family, be sure to schedule regular dryer vent cleaning.
Common Areas We Serve
Simi Valley

Thousand Oaks

Ventura

Los Angeles

Pasadena

Moorpark

Camarillo

Santa Clarita

San Fernando
When to Schedule Dryer Vent Cleaning
The frequency that dryer vents need to be cleaned depends on how much laundry you do in an average week. For example, if you usually wash about four to seven loads per week, it is recommended that you have your dryer vent cleaned annually. If you wash more laundry than that, you may need the vent cleaned every six months. If you wash less than four loads a week, you may be able to go a little longer, but should always have your dryer vent cleaned at least every other year.
The signs that dryer vent cleaning may be needed include:
The dryer taking longer to dry your laundry
Burning odors when the dryer is running
The outside of the dryer getting very hot when running
The outside vent flap not opening and closing normally
If you notice any of these signs, it is best to schedule dryer vent cleaning in Simi Valley, especially if it has been more than a year since your last cleaning. If you aren't sure about the condition of your dryer vent, it is always better to get an inspection than to risk a fire hazard.
Our Dryer Vent Cleaning Services
Proper dryer vent cleaning requires the right equipment and expertise. Our technicians are thoroughly trained to provide reliable and efficient dryer vent cleaning in Simi Valley and equipped with the right tools to get the job done to your satisfaction.
Our technicians use powerful vacuums and rotating brushes to thoroughly remove the buildup from inside the vent and dryer duct, including hard to reach places. We scrupulously clean the entire duct, including the entry and exit points to ensure that all lint buildup is completely removed.
Call our office today at (805) 301-9580 to schedule your dryer vent cleaning service.
Maintenance Plans Designed to Keep You Comfortable In Every Season
Learn More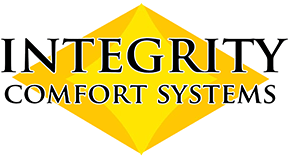 FREE Estimates

& FREE Diagnostics on Repairs

Contact us at

(805) 301-9580

for more details!

Valid from Jan 1, 2021

- Dec 31, 2022
Why Choose Integrity Comfort?
Money-Saving Maintenance Plans

Customer Satisfaction Guaranteed

Locally Owned & Operated

Financing Options Available

Free Estimates On New Installations & Diagnostics

10 Year Parts & Labor Warranty
Hear What Our Customers Are Saying
"This is the only AC and heating company that I would recommend."

"Thank you so much, Chris! You genuinely represented your company's reputable name!"

"He figured out the issue and gave me some money-saving options. Super nice guy, knowledgeable, and I will definitely refer anyone I know to him. Oh, and he even brought his own shoe covers which is a SUPER PLUS in my book since we are a no-shoes home!"

"Everyone at Integrity is great! Been a customer for more than 10 years."

"Mike at Integrity was so informative and professional. Very great to deal with."